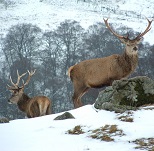 Progress on creating and implementing effective deer management plans across Scotland is too slow and some deer management groups lack public accountability, according to the Rural Affairs, Climate Change and Environment Committee.
Convener of the committee, Rob Gibson MSP, said: "There is no doubt that this is a controversial subject with strong views on either side of the debate. What was clear from the evidence our committee heard was that we need deer management groups to be effective and environmentally responsible, bringing in all interests, not just those of landowners. At the moment, the picture is patchy and inconsistent.
"The committee considers that there is no definitive evidence of the need to introduce a statutory duty of sustainable deer management for deer management groups at this point in time. However, if all deer management groups do not get their act together, this committee will have no choice but to recommend further action."
In a letter to the Minister for Environment and Climate Change, Paul Wheelhouse MSP, outlined the wide-ranging and unanimous conclusions the committee came to. In particular, the committee concurred with the agencies that it is the impacts of deer rather than their absolute numbers that is most important when considering appropriate approaches to deer management.