Dr Ali A Mohammed MB ChB MRCP(UK) FRCP(Ed)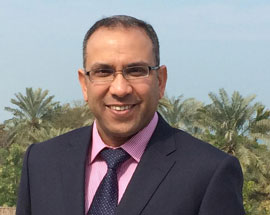 Consultant Respiratory & General Physician
Dr Ali A Mohammad has been a consultant at Whipps Cross University Hospital, Barts Health NHS Trust in London, since August 2010. He is the Clinical Lead for lung cancer and pleural disease services. He also has a very active private practice and runs his private clinic at the Holly Private Hospital, Buckhurst Hill in Essex and at the BMI London Independent Hospital in Stepney Green.
Dr Mohammed started medico-legal reporting in 2009 and covers most aspects of respiratory medicine - including COPD, asthma, pulmonary embolism, tuberculosis, lung cancer, pneumonia, oxygen therapy and pulmonary fibrosis.
His respiratory expertise provides him with a better understanding of intensive care-related illnesses and other complex cases involving overlap of specialties. He is also a general and acute physician with broad experience of handling complex cases.
His specialist areas of expertise include:
• General respiratory claims
• Industrial injuries and illnesses
• Lung cancer and other lung malignancies
• Respiratory infections
• Occupational related claims
• Medical negligence
• Respiratory problems related to intensive care illnesses
• Pulmonary vascular disease
On average Dr Mohammed completes 25-30 medico-legal reports per annum and takes instructions on behalf of either claimant or defendant or as a Single Joint Expert.