Professor Christopher Raine MBE BSc (Hons) MB BS ChM FRCS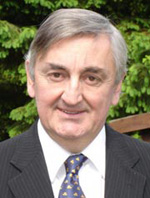 Consultant Oto-Rhino-Laryngologist
Consultant Oto-Rhino-Laryngologist at Bradford Royal Infirmary since 1986.
Clinical director of the Yorkshire Auditory Implant Service (YAIS).
Previous Intercollegiate Examiner for the final part in Oto-Rhino-Laryngology head and neck surgery – now question writing and exam setting.
Member of the Royal Court of Examiners Royal College of Surgeons of England.
Medico-Legal
I have a general interest in all aspects of Oto-Rhino-Laryngology Head and Neck surgery and prepare reports accordingly. I am recognised as having an area of specialism in Paediatrics and Otology, also dealing with issues related to trauma, industrial noise induced hearing loss, profound hearing loss and tinnitus. Instructions are received from both Claimants and Defendants. Reports are issued in accordance to the new Civil Procedure Rules. Independent cases are prepared for NHS tribunals as well as a medical expert for malpractice cases both for the patient and medical attendant.
I am the clinical director of the Yorkshire Auditory Implant Service, which I established in 1990. This is a supra-regional unit where young babies and adults who may have a variety of significant hearing problems are referred for specialised assessment and treatment. I present work regularly at a national and international level.
I have not published directly about medico legal work but have written numerous papers. A full list of publications and presentations can be supplied.
I have formally given evidence in court as an expert witness and have been a member for The Expert Witness Institute since May 1999. I have had frequent meetings with Council to discuss cases.
Professional Membership
• British Medical Association (BMA)
• General Medical Council (GMC)
• Medical Defence Union (MDU)
• Royal College of Surgeons of England (RCSE)
• British Association of Oto-Rhino-Laryngologists (ENT UK)
• Royal Society of Medicine (RSM)
• British Association of Paediatric Otolaryngologists (BAPO)
• European Society of Paediatric Otolaryngologists (ESPO)
• British Cochlear Implant Group (BCIG)
• British Society of Otology (BSO)
• British Rhinological Society (BRS)
• Member of The Expert Witness Institute (EWI)
• Registered Expert Witness for The Law Society