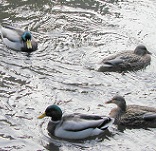 The Law Commission is seeking views on how wildlife law should be modernised and simplified and has launched a consultation, running until November.
According to the commission the current law regulating wildlife is spread over a collection of Acts dating back to 1831, the original purpose of which of the law was to govern activities hunting, fishing and, of course, poaching. More recently that has expanded to the conservation specific species, ensuring the welfare of wildlife and now protecting local biodiversity from invasive species.
The result, says the commission, is a legal landscape that is "out of date, confused and often contradictory". For example, the hunting, management and welfare of pheasants is governed by four separate statutes.