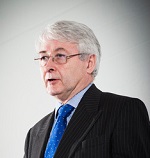 One of the country's leading authorities on construction law will be speaking at an event chaired by a partner at Oxford law firm Blake Lapthorn later this month. The Hon Mr Justice Ramsey will speak at a joint meeting of the Society of Construction Law and the Thames Valley Branch of the Chartered Institute of Arbitrators.
A graduate of Oriel College, Oxford, Mr Justice Ramsey was appointed as a High Court judge in 2005. In 2007 he was appointed for three years as judge in charge of the Technology and Construction Court, the specialist arm of the High Court for dealing with construction disputes.
He will speak about the latest thinking in construction law and how the courts interpret it, under the heading Statutory Difference: Why an Arbitration Act but no Adjudication Act?