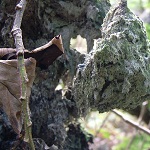 A series of one-day events will be taking place around the UK on the issue of asbestos in soil – an issue that is of crucial important to the construction industry and one which gives rise to a growing amount of litigation and even criminal cases.
The events begin at Belfast City Council's Cecil Ward Building on 24 June with Good practice – Assessment of Asbestos Risk from the Ground, a training day by the Local Authority Contaminated Land Network. It will provide an introduction to asbestos in soil, reviewing the types of asbestos and the toxicology associated with asbestos.
The event is of special interest to local authorities, clients, housebuilders, consultants and contractors.