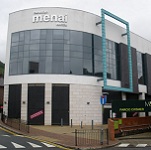 North Wales-based building contractor Watkin Jones and Son Ltd has been ordered to pay a total of £548,000 following the death of a roofing worker who fell through a roof while working on the construction of the Menai Centre in Bangor, Gwynedd.
Yorkshireman Thomas Whitmarsh was employed by a roofing contractor working for Watkin Jones and Son as a sub-contractor in May 2007. He fell nearly six metres through an unguarded opening in the roof to the floor below, sustaining serious head injuries.
After spending several months in hospital Mr Whitmarsh was making a gradual recovery; however, the brain injury he suffered exposed him to a much higher degree of infection. He contracted acute meningitis and died on 17 December 2009.