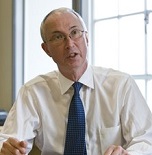 The market in criminal advocacy is not working competitively or in such a way as to optimise quality, according to an independent report published on 7 May. The report, Independent Criminal Advocacy in England and Wales, is the product of a review commissioned by Justice Secretary Chris Grayling and undertaken by former civil servant Sir Bill Jeffrey.
With crime falling and criminal proceedings simpler, says the report, there is less work for criminal advocates to do, with more advocates than even a few years ago. Yet the report found disquiet among judges about the capabilities of some of the advocates appearing before them.
Its specific recommendations include improved advocacy training for solicitors, encouragement of the Criminal Bar to be willing to adjust its way of doing business, to enable it to compete for legal aid contracts, and the timely assignment of advocates.
It also draws attention to the longer term implications if current trend towards the use of solicitor advocates and away from the Criminal Bar continues. Sir Bill is clear that it would be neither feasible nor desirable to wind the clock back on rights of audience. Solicitor advocates are a valuable and established part of the scene; but if the Bar's share of the work continues to decline, as the current generation moves to retirement, the supply of top-end advocates to undertake the most complex trials would be in doubt.