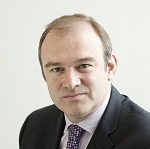 On 23 November the Department for Energy and Climate Change (DECC) published its proposals for the long-delayed Energy Bill. The bill was dogged by arguments between the DECC and the Treasury. Secretary of State Ed Davey called the bill "a landmark agreement on energy policy that will deliver a clear, durable signal to investors".
Mr Davey said in a statement: "This is a durable agreement across the coalition against which companies can invest and support jobs and our economic recovery. The decisions we've reached are true to the coalition agreement; they mean we can introduce the Energy Bill next week and have essential electricity market reforms up and running by 2014 as planned.
"They will allow us to meet our legally binding carbon reduction and renewable energy obligations and will bring on the investment required to keep the lights on and bills affordable for consumers."
With a fifth of the UK's electricity generating capacity due to close this decade, the DECC said, reforms are needed to provide certainty to investors to bring forward £110bn of investment in new infrastructure to keep the lights on and continue the shift to a diverse, low carbon economy as cheaply as possible. The statement claimed the investment will support as many as 250,000 jobs in the energy sector.
Mr Davey announced a package of decisions around the Energy Bill, which will be introduced next week:
• The creation of a Government-owned company to act as a single counterparty to give investors confidence to enter into new long-term 'Contracts for Difference' for low-carbon electricity projects.
• Powers to introduce a capacity market, allowing for capacity auctions from 2014 for delivery of capacity in the winter of 2018/19, if needed, to help ensure the lights stay on even at times of peak demand. The Government is also seeking to provide certainty to gas investors and a Gas Generation Strategy will be published alongside the Chancellor's Autumn Statement.
• An amendment during the passage of the Bill to take powers to set a decarbonisation target range for 2030 in secondary legislation. A decision to exercise that power will be taken once the Climate Change Committee has provided advice in 2016 on the 5th Carbon Budget, which covers the corresponding period. In the meantime, the Government will issue guidance to National Grid setting out an indicative range of decarbonisation scenarios for the power sector in 2030, consistent with the least cost approach to the UK's 2050 carbon target and reflecting both the existing fourth carbon budget and a scenario in which it is reviewed up, as outlined when the budget was set.
The amount of market support to be available for investment in low-carbon electricity – under the Levy Control Framework – up to 2020 has also been agreed. This will be set at £7.6bn at real 2012 prices in 2020, which corresponds to around or £9.8bn at nominal 2020 prices. That, says the DECC, will help diversify our energy mix to avoid excessive gas import dependency by increasing the amount of electricity coming from renewables from 11% today to around 30% by 2020, as well as supporting new nuclear power and carbon capture and storage commercialisation. It is broadly consistent with the Committee on Climate Change's recommendation. It will provide certainty to investors in all generation technologies and provide protection to consumers.