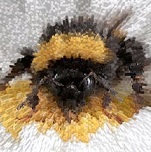 Experts from the School of Biological Sciences at Royal Holloway, London, have teamed up with musicians and artists at the departments of music and English to produce a new opera that explores the dangerous decline in bumblebee populations in the UK. The Silence of the Bees: A Science Opera will receive its world première at the university on 17 March and will launch the Royal Holloway Science Festival.
The main inspiration was the work of Dr Mark Brown, who has carried out research into the decline of bees and worked to protect endangered species and reintroduce extinct types back to the UK.
Dr Brown said: "Scientists and artists are often viewed as working in very different ways, but creativity and the desire to communicate are universal.
"The rapid decline of bees is an issue that urgently needs to be addressed. They provide the essential ecosystem service of pollination and without them we would lose many of our food products as well as many flowering plants.
"I hope that by fusing our worlds together in this one-act opera, we will be able to communicate the importance of this issue to a new audience."
The opera launches a week-long programme of events celebrating science at Royal Holloway. The various activities, which are open to all, include: Frankenfest, where the theme of what it is to be human and the 'nature versus nurture' issue will be explored; a Science Fact, Science Fiction pub quiz and University Challenge for secondary school pupils.
The week will culminate in Super Science Saturday where artists, craftspeople, performers and producers will host a Science Alternative Village Fete, with stalls featuring pinhole photography portraits, where participants will be asked to pose as favourite scientist/alien/intergalactic hero and a Table of Curiosities which will explore science fiction through magic lantern slide making, optical drawing, thaumatropes and flick books.
There will also be the opportunity to take part in a live Twitter hunt, see the university's brain scanner in action, play particle Guess Who, try cracking codes and build robots to challenge Royal Holloway's robot team at Connect 4.
Professor Paul Layzell, Principal of Royal Holloway, said: "We have a thriving science community here at Royal Holloway, with world-class pioneering research, so this is a great opportunity for everyone to come along and discover some of the exciting things that we are up to.
"As early assessment for science is made more demanding, it's important that we continue to engage the next generation in these subjects and make it fun. Through these types of activities, we can demonstrate the wide-ranging impact of science and debunk traditional perceptions."