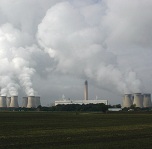 Four bidders have been shortlisted for the next phase of the UK's £1bn carbon capture and storage (CCS) competition. The four were selected from eight bids received after an evaluation process that considered project deliverability, value for money and the Government's timetable to deliver a cost-competitive CCS industry in the 2020s.
The four short listed bids – all full-chain capture, transport and storage projects – are:
• Captain Clean Energy Project, a proposal for a 570MW project in Grangemouth, Scotland, with storage in offshore depleted gas fields. It is led by Summit Power, involving Petrofac (CO2 Deepstore), National Grid and Siemens.
• Peterhead, a 340MW post-combustion capture retrofitted to part of an existing 1,180MW power station at Peterhead, Scotland. It is led by Shell and SSE.
• Teesside Low Carbon Project, a pre-combustion coal gasification project on Teesside, with storage in depleted oil field and saline aquifer. It is a consortium led by Progressive Energy and involving GDF SUEZ, Premier Oil, and BOC.
• White Rose Project, an oxyfuel capture project at a proposed new 304MW coal-fired power station on the Drax site in North Yorkshire. It is led by Alstom and involves Drax, BOC and National Grid.