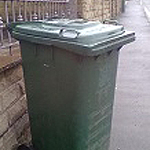 Hefty fines of more than £100 mistakes such as leaving a bin-lid open have been cut under changes to the law brought in by Defra. New rules that came into effect on 30 May reduce the maximum fines under the fixed penalty notice system that councils can give out to householders for overfilling their bin or accidentally putting their rubbish out an hour too early.
The fines have been reduced from a maximum of £110 to £40 for early payment.
Announcing the changes, Environment Secretary, Caroline Spelman, said: "The threat of a £110 fine for a simple mistake such as putting your bin out an hour early suggests the punishment doesn't fit the crime. Today is the first step towards a return to common sense. People should be encouraged to do their bit by putting out their rubbish in the right way, but hefty fines are not the way to do it."