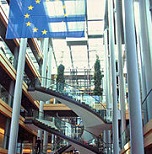 A leading transatlantic think tank became the latest to issue a report warning of crisis in the European carbon reduction programme as a result of the vote in the Parliament to reject reform of the Emissions Trading System (ETS).
Thomas Legge, a senior figure in the Brussels office of the German Marshall Fund of the United States (GMFUS) wrote in a blog; "Europe's reputation as a leader in climate change policy took another beating this month when the European Parliament rejected, by 334 votes to 315, a proposal to reform the EU Emissions Trading System (EU ETS). The vote leaves Europe's carbon-trading market — the world's largest — at risk of collapse and threatens to fragment and complicate efforts to tackle climate change on both sides of the Atlantic."
He pointed to the dramatic fall in the price of carbon in the wake of the credit crunch.
"Allowances (equivalent to one ton of carbon dioxide) traded at an average of over €20 during the whole of 2008. But the recession since 2008 and subsequent drop in industrial output in Europe resulted in a huge oversupply, and the price fell to around €5," said Legge.
The article followed a claim by a British LibDem MEP that an increase in coal use in the EU for the first time in many years was because of the low price of carbon.
Fiona Hall MEP wrote in the online newsletter Public Service Europe: "The ETS is the largest carbon trading scheme in the world and is designed to drive down emissions from the power sector and heavy industry on an annual basis to achieve Europe's 20% GHG reduction target by 2020. Setting a carbon price was also meant to promote low carbon investments and drive innovation into green technology.
"Yet, the current EU carbon price is almost 10 times lower than was expected when the ETS was agreed in 2008 – due to the large oversupply of emission allowances in the wake of the economic crisis."
Thomas Legge pointed out that the Parliament vote will not destroy EU climate policy, but demonstrated that a new approach was needed.
"The failure of top-down global attempts to address climate change had given way to national or regional programs such as the EU ETS, whose individual successes could have generated imitations elsewhere," he wrote." The European Union has just begun a process to define new targets for reducing its emissions by 2030. Having failed so far to rescue the EU ETS, Europe's political leaders need to rediscover some of their old ambition if the continent is to repair its reputation as an environmental leader."