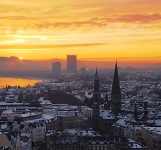 June saw two weeks of meeting in Bonn to pave the way for a final international agreement on climate change in Paris next year. Despite early disappointment at the small number of environment ministers attending – despite an undertaking given in Warsaw last year for ministers to attend – the communique issued on 15 June was upbeat.
It stated: "The positivity around the past two week's meetings culminated at the close when governments asked that the elements of a draft treaty be made available by July in advance of the next meetings in Bonn in October."
Kishan Kumarsingh and Artur Runge-Metzger, the co-chairs of the working group tasked to construct the 2015 agreement, said in a joint statement: "The co-operative and positive atmosphere so self-evident here in Bonn has now translated into a significant step forward towards the elements of a draft treaty that needs to be a key outcome by the end of the year in Lima, Peru.