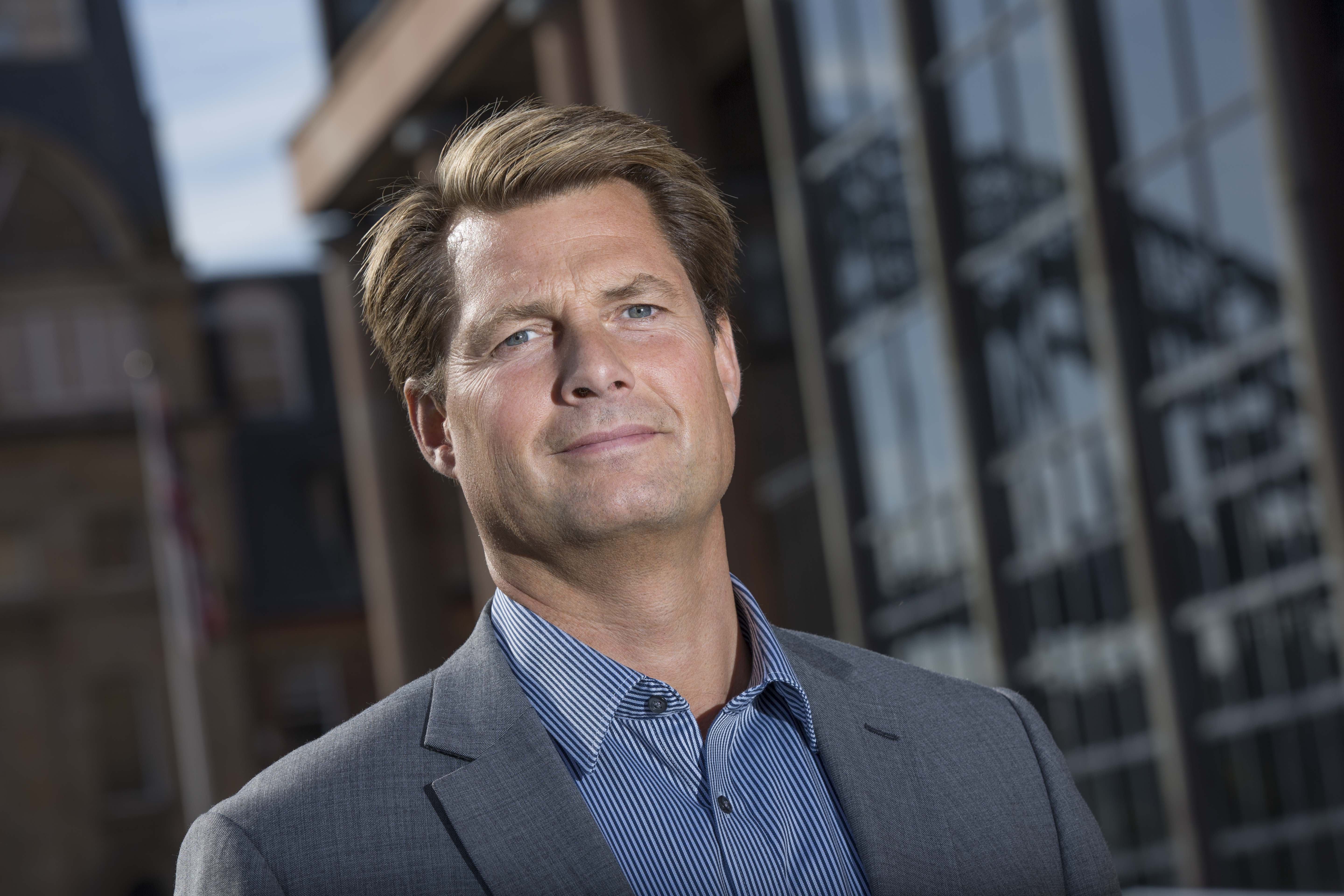 Lawyers are losing out on £4bn worth of business from SME's each year because of a lack of transparency over cost and scope of the services they provide according to the latest research from The Law Superstore.
The Law Superstore is the UK's first legal comparison website, which is launching to consumers in August, it analysed the top twenty business legal services by volume of google searches to estimate the potential market.
According to the Legal Services Board 40 per cent of SME's have a legal issue every year but only one fifth of those with a legal issue consult a solicitor, which means 80 per cent of businesses who have a legal need each year do not engage a solicitor.
The research revealed Data Protection Advice was the most widely searched for term on google with an estimated latent value of £372m to the legal sector, followed by comprehensive company formation with an estimated latent value of £560m.
Other service areas to make it into the top twenty include staff handbook (£67m), shareholder agreements (£47m) and contract disputes (£37m).
The Law Superstore chief executive Matthew Briggs said: "Our research shows there is a real need in the market for legal services which isn't being met at the moment. When people have a legal need they are searching online but not going that step further because lawyers generally aren't transparent about their service offering or how much it will cost. In fact, it's believed that 43 per cent discuss their legal issues with an accountant rather than a solicitor. (1)
"Changing consumer behaviour means people are used to being able to search online for a product or service, compare providers, read service reviews and transact from their device with a responsive provider.
"Legal services aren't viewed any differently by the consumer who wants to buy, but until now, the legal sector has been reluctant to adapt to changing consumer behaviour.
"The Law Superstore gives law firms the opportunity to tap into a new source of business from a partner that gives the consumer what they want."
According to The Law Society (2) one of the biggest threats to the legal sector over the next few years is changing buyer behaviour and technological and process innovation.
Its report 'The future of legal services' concluded: "Changes to the legal services market points towards a shift in how services are purchased. Clients will buy services they need as and when they need them. Fixed-fee services are now commonplace and the traditional model of a solicitor charging fees based on an hourly rate is gradually disappearing. There is a growing interest in fixed fees across all main consumer law sectors"
It also warned that the legal sector is inheriting the impact of changes made by leading consumer brands to successfully build reputation and interact with purchasers online and for many consumers this is feeding their expectation of how they should be able to access and purchase legal services.
It said: "If a business is not reinventing itself to adapt to changing market conditions then it is highly likely it will go into decline or be taken over by those that are better adapted to the new environment. This statement is no less true for law firms than for any business."
Furthermore, the Competition and Markets Authority published its interim report into the Legal Market and confirmed it is considering a mandatory requirement for legal providers to engage with a digital comparison tool.
The Law Superstore has more than 150 solicitors offices signed up as partners for launch. Partner firms are in complete control of their presence on the website and they can choose the price based on a pre-defined scope of work so partner and client is completely aligned.
There is no up-front investment and legal service providers are able to switch services on and off to meet their business needs. Once a potential client has chosen a legal service provider, the case will be provided to the firm and confirmed to the client. At this point an agreed fee is payable to The Law Superstore.
For more information visit www.thelawsuperstore.co.uk
Table showing the volume of searches by business legal service and the latent market value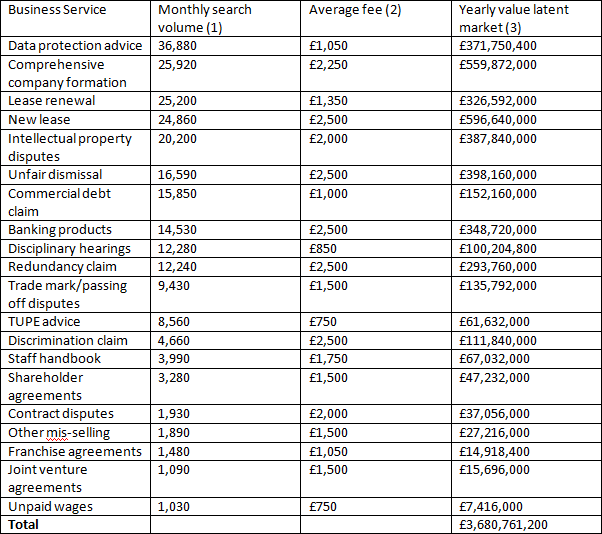 Table notes
Monthly searches by volume source: Google
Average fee for a mid-complexity case by service line source: The Law Superstore
80 per cent (the number of SME's who have a legal need don't consult a solicitor according to the Legal Services Board) of the number monthly searches multiplied by twelve then multiplied by the average cost of the service.