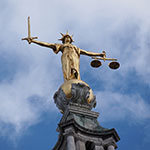 In the largest ever survey of legal needs in England and Wales, more than 8,000 people responded to questions about how they dealt with a range of legal issues. The survey was conducted by Ipsos MORI for the Law Society and the Legal Services Board.
Legal issues raised included wills, probate, conveyancing, consumer rights, arrest, debt and more complex legal concerns, such as relationship breakdown.
Over half of those who responded (54%) had experienced at least one legal issue in the past three years.
They were most likely to have had a consumer rights issue, bought or sold a home, made a will or dealt with the estate of a deceased relative. Disputes with neighbours, problems with benefits, debt/money problems and problems with an employer were also common issues. Only 3% had been arrested.