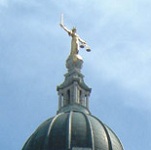 The Law Commission is recommending that a new online service should be established to help journalists and publishers reporting criminal trials discover whether reporting restrictions are in force and, if so, why. The service would be open to all publishers, from large media organisations to individual bloggers.
To protect the defendant's right to a fair trial, the judge has the power to order that specific information is not disclosed to the jury. In exceptional circumstances, to prevent the jury from discovering that information in the media, the judge can impose reporting restrictions, postponing publication until the end of the trial and sometimes longer.
At the moment, there is no formal system for notifying potential publishers that a restriction is in force or why, but publishers who breach a restriction risk being prosecuted for contempt of court.