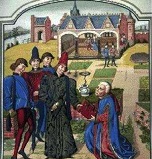 The House of Commons Justice Committee has begun an inquiry into manorial rights following a spate of applications to register remaining rights prior to the deadline of 13 October 2013.
According to the background to the inquiry, the Land Registry describes manorial rights as rights which were retained by lords of the manor when land became freehold. They can include rights to mines and some minerals, sporting rights such as hunting, shooting and fishing, and rights to hold fairs and markets.
Those rights were specifically preserved in 1926 when other aspects of the manorial system were abolished; however, following changes introduced by the Land Registration Act 2002 they lost their overriding status in relation to properties if they were not protected by being registered before last October's deadline.