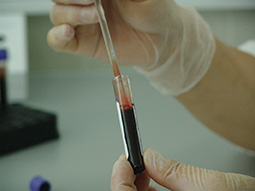 A scandal has arisen involving a company providing blood testing services after two workers from its Manchester lab were bailed following allegations that data was falsified.
The company, Randox Testing Services (RTS), provides testing services to police forces across the UK.
The affair came to light after the results of a test carried out by Randox were challenged by lawyer Nick Freeman, dubbed by the press 'Mr Loophole'. Mr Freeman's client, a 26-year-old Chester man, had been arrested in December 2015 on suspicion of drug driving. He gave a blood sample which was sent to Randox for analysis.
The results claimed to show the driver was not only over the prescribed limit for cannabis, but his blood also tested positive for traces of cocaine and another drug, which the defendant disputed.
Mr Freeman said: "We asked our expert to look at the Randox report. He identified a number of analytical issues that affected the reliability of the results."