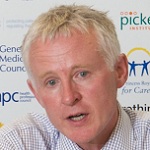 People who believe they should have an assessment of eligibility for NHS Continuing Healthcare funding are being reminded that they should apply soon. The deadline is 31 March. Patients or the relatives of patients who received care that was paid for between 1 April 2011 and 31 March 2012 and were not assessed for NHS Continuing Healthcare but think they should be, have until 31st March to contact their PCT about, a statement from the Department of Health has explained.
Health Minister Norman Lamb (pictured) said: "The deadline to register for an assessment is approaching and we want everyone that should have been entitled to be assessed for a past period of care to be considered as soon as possible.
"In March 2012 we asked the NHS to communicate this deadline as quickly and effectively as possible to local people through whatever means necessary.