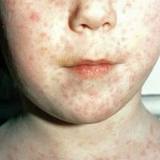 Measles is usually a mild illness - but can be fatal
European countries need to act now to tackle measles outbreaks, the World Health Organization warns.
The WHO report says there were over 26,000 measles cases in 36 European countries from January to October 2011.
Western European countries reported 83% of those cases, with 14,000 in France alone.