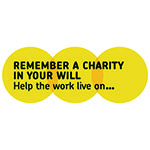 Last year saw legacy giving in the UK at an all-time high, as measured by the umbrella organisation Remember A Charity. The organisation says it continued to make significant progress towards its goal of making charitable will writing the social norm.

"While it has been a challenging year for fundraising, by working together the consortium has had its most successful year to date," it said.
The proportion of people who say they have included charitable legacies in their wills is now at 17% – the highest level since Remember A Charity began monitoring in 2002. The campaign also saw record support from Government this year, including the Cabinet Office, HM Treasury, Scottish Government and the Department for Culture, Media and Sport. The percentage of solicitors and will writers who 'always or sometimes' prompt their clients has also increased, from 53% to 66% in the past five years – again, the highest level since its market research commenced in 2002.