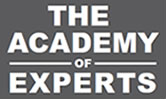 The work and outstanding contributions of three well known individuals to the work of Expert Witnesses and the Legal Profession has been recognised by The Academy of Experts [TAE].
At its annual dinner held at Butcher's Hall on Wednesday 5th November Academy President, Lord Saville of Newdigate, inducted Rt Hon Lord Woolf of Barnes and Sir Peter Cresswell as Companions of The Academy of Experts. At the same time Lord Howe of Aberavon, Lord Saville's predecessor as Academy President was made an Honorary Fellow of The Academy of Experts. Amongst the other guests at the dinner were Minister of State for Justice, Lord Faulks QC, and the Chairman of the Bar, Nicholas Lavender QC.
Lord Woolf of Barnes
As Master of the Rolls Lord Woolf was instrumental in the introduction of the Civil Procedure Rules. He has had a long and distinguished career gaining international renown and influencing the reform of civil procedure in many jurisdictions. The phrase 'the spirit of Woolf' has become the measure and reminder around the Common Law world of the new approach that Lord Woolf breathed into the legal world. It marked the end of the legal practice of trial by ambush and introduced the concept of level playing fields.