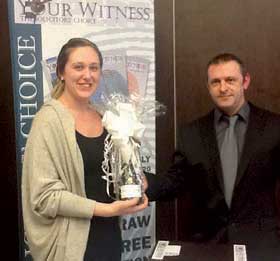 In May the Lowry Hotel in Manchester saw the return of the popular conference and networking event organised by the SOLICITORS group – the LAW 2013 Roadshow. It was home turf for Your Expert Witness – members of the magazine's staff were on hand to introduce those amongst the estimated 1,000 or so legal professionals in attendance still unfamiliar with the title to the range of news and special features the journal has to offer.
The LAW 2013 Roadshow combines continuous professional development conferences for legal professionals with an exhibition of services on offer. The popularity of the exhibition led to a welcome boost in circulation for Your Expert Witness, while new friends were made and old acquaintances renewed.
The two days of concentrated activity meant the many experts who advertise in Your Expert Witness saw their services promoted to an even wider readership among solicitors than previously.
Director of business development Ian Wild was enthusiastic about the results. "It was certainly a worthwhile event. We generated a lot of interest in the publication and added value for our advertisers," he said. "We will certainly be attending further events this year to promote the magazine to an even wider audience."
The event was one of a series of roadshows around the country. The 2013 series launched in Birmingham in February, where Ian and his colleagues saw similar success.
The roadshows, however, are just one element in the whole range of events and services on offer from the SOLICITORS group – the largest collection of law firms in England and Wales and organisers of the profession's largest legal conferences and training exhibitions across the UK.
It claims a membership of 22,000 likeminded professionals and offers training services and the profession's largest buying group.
Law firms join either as an associate or full member. Associate membership is free of charge and the full membership fee is set according to the size of the firm.
Among the range of services available to the legal profession, in addition to the CPD training events throughout the country, are DVDs and CDs on a full range of CPD topics, online training modules and inhouse courses.
There is also a range of directories featuring experts in all areas of law.
The latest innovation from the group is a news channel available on You Tube: tsglegal.tv.
Because the SOLICITORS group has a large number of law firms in membership it is able to partner with suppliers of all kinds to the legal profession to generate special offers and discounts for its members.
Everything from insurance to stationery and from accounts software to property searches is available at a special rate from the group's preferred suppliers.
See this along with much more in our Online Edition