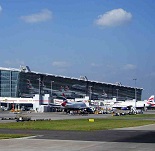 The High Court has ruled that a person detained for examination under Schedule 7 of the Terrorism Act 2000 is entitled to consult a solicitor in person at any time. The decision clarifies the existing uncertainty about the scope of Schedule 7 of the Terrorism Act and follows a Law Society intervention in a judicial review against the Metropolitan Police.
The Law Society argued that it is unlawful to restrict a person who has been detained at a port or airport under Schedule 7 of the Terrorism Act to only being entitled to have legal advice from a solicitor via telephone prior to a police interview, rather than having the right to have a solicitor present in person during the questioning where the detainee has specifically asked for that greater form of protection.
In his judgment, issued on 6 November, Mr Justice Bean said: "The detainee has the choice. The right may be exercised at any time during the period of detention and may be exercised repeatedly, although not in a manner which frustrates the proper purpose of the examination. If the solicitor attends in person he may be present during the interview…"
Law Society chief executive Desmond Hudson commented: "As the professional body for solicitors in England and Wales the Law Society has intervened in this case to establish that there is no doubt that detainees have a right to consult their solicitor in person once detained and to emphasise the useful role solicitors play in advising detainees.
"Police powers under the Terrorism Act are wide and highly intrusive and individuals are questioned under the threat of criminal liability. There is no right to silence. The legislation permits officers to stop and question without suspicion in order to determine whether the detainee appears to be involved in terrorism. It is vital to ensure that individuals are not being detained other than for permitted purposes.
"We have highlighted the value of face-to-face advice in this context and further established clarity over whether individuals can refuse to answer questions pending their solicitor's arrival.
"The presence of solicitors provides a fundamental safeguard to detainees and this ruling has clarified that in principle there is no sound reason why questioning of a detainee should not be delayed pending the arrival of a solicitor, who can advise on what questions they are obliged to answer and explain the legal implications of refusing to do so.
"This case focuses on the right to consult a solicitor in a situation where individuals are extremely vulnerable. It raises an important issue not only to the legal profession but also to the public generally."