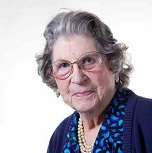 The process of granting power of attorney has become "unnecessarily expensive and time-consuming", according to Baroness Trumpington (pictured).
Speaking during Lords Questions on 11 November, the Conservative Peer was challenging an assertion by Justice Minister Lord McNally that the government had reduced the fee for the granting of lasting power of attorney and was trialling an online process.
She had posed the question: "…what steps [the Government] will take to make it easier to nominate a power of attorney."
She went on to criticise the unnecessary complexity of the process.
She said: "Many women, and maybe men as well, are thoroughly put off by the amount of money it will cost simply to do what one used to do. If the Minister asks his more elderly relations he may find out that one used to get a bit of paper, write on it 'I give you power of attorney', sign it and send it to the bank—that is all you had to do."
Her concern was echoed by former Commons Speaker Lady Boothroyd. Holding up a copy of the document, she said: "My Lords, this is the document to register power of attorney: it is 12 pages chock-full of questions, cautions and warnings. It is the most verbose document that I have had to deal with either for myself or for those I have represented in over 30 years in public life." 
Baroness Turner of Camden informed the house that, as her sister is in the early stages of Alzheimer's, she has had to deal with the issue and finding someone to take on the task was not easy.
She said: "It is important that it be really simplified so that people can take this job on. This is increasingly important as we are dealing with an older population in which people require this kind of service as simply and quickly as possible."
That, said Lord McNally, was the issue. The population is getting older.
"My Lords, the noble Baroness has put her finger right on it," he said. "We all know the change in the structure of the population that is going on. I am always amazed when I am in the corridor and pass a colleague who I know is as old as I am and who says, 'I've got to go and visit Mother this weekend'. That is one of the responsibilities; and because of these increasing responsibilities, we have to make sure that as well as making this process simple, we also make it fraud-proof. That is the balance that we are trying to get."
The online trial Lord McNally was referring to was introduced in October in order, said the MoJ, to enable a wider range of people to ensure they have lasting powers of attorney.
At the time Lord McNally said: ""By putting the LPA application process online and cutting the cost we are making it cheaper, simpler and faster to apply – we are making that possible and helping hard working people with the cost of living at the same time."
Reform of the system is subject to an on-going consultation process that ends on 26 November.