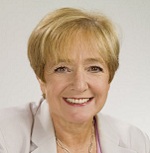 The House of Commons Public Accounts Committee has called on HMRC to "name and shame" those who sell or use tax avoidance schemes. The promoters of such schemes are "running rings" around the tax authority, said its chair Rt Hon Margaret Hodge MP (pictured).
The call came in the committee's report of an investigation into marketed tax avoidance schemes, during which evidence was taken from HMRC itself, together with a number of promoters of such schemes.
Margaret Hodge said: "Promoters of 'boutique' tax avoidance schemes like the one brought to our attention by the case of Jimmy Carr, are running rings around HMRC. They create schemes which exploit loopholes in legislation or abuse available tax reliefs such as those intended to encourage investment in British films, and then sign up as many clients as possible, knowing that it will take time for HMRC to change the law and shut the scheme down.