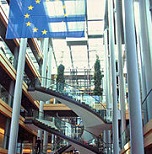 Rules on prosecuting and punishing fraud against the EU budget were voted for by the European Parliament's Budgetary Control and Civil Liberties committees on Thursday. In amendments to a draft anti-fraud law, MEPs clearly defined the offences for which member states would have to introduce criminal penalties – such as fraud, passive and active corruption, money laundering or dishonest bidding for public procurement contracts. Fraud costs the EU budget an estimated €600m each year.
Fraud against the EU budget currently includes cases where applicants provide false information in order to obtain funding for agriculture or regional development or where national officials accept money in return for awarding a public contract, in breach of procurement rules.
The draft directive as amended by MEPs clearly defines offences against the EU budget. It covers not only fraud as such, but also other fraud-related offences, including passive and active corruption, misappropriation of funds, money laundering and obstruction of public procurement procedures. The draft rules also lay down periods within which it would remain possible to investigate and prosecute offences, so as to avoid cases being dropped.
The maximum penalty for those crimes would be at least five or 10 years' imprisonment, depending on whether or not the offence was committed by an organised group. EU officials are included in the scope of the draft law.
The damage thresholds above which prison sentences kick in are defined in financial terms. For crimes committed by 'natural persons', MEPs lowered the proposed threshold from €10,000 to €5,000. For offences below this amount, EU member states could impose non-criminal penalties, such as fines. For 'legal persons', penalties may include temporary or permanent exclusion from EU tender procedures, MEPs added.
MEPs backed the Commission proposal to include VAT fraud in the scope of the directive. They also widened the definition of "EU financial interests" to include assets and liabilities as well as borrowing and lending activities.
Interpretations of what constitutes fraud against the EU budget currently differ from one EU country to another, as do penalties. Penalties for fraud vary from no mandatory sentence to 12 years imprisonment. The periods within which it is possible to investigate and prosecute offences also vary widely, from one to 12 years. Conviction rates vary from 14% to 80% (with an EU average of 41%).
The draft law is to be put to a first-reading vote by Parliament as a whole in April, in order to consolidate the work done so far and hand it over to the next Parliament. This ensures that the MEPs newly elected in May can decide not to start from scratch, but instead build on work done during the current term.