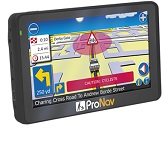 A new satnav system that alerts lorry drivers when they're approaching cyclist hotspots in London has been developed by software experts at Letchworth-based GPS company Navevo, based on official data provided by Transport for London (TfL). The device is programmed to flag up 100 different locations.
Ian Wainwright, Head of Freight and Fleet at TfL, said that the new system will increase the safety of cyclists on the capital's roads.
"For many years London has worked to lead the way in pushing for the adoption of safer lorries and safer lorry driving," he said. "The creation of a specific cyclist alert for HGV drivers is another positive step forward and will help improve cycle safety across the capital."
Navevo is said to be planning on expanding the service to include other cities in the future.