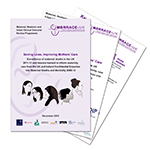 On 8 December the MBRRACE-UK team at the National Perinatal Epidemiology Unit published its latest report, Saving Lives, Improving Mothers' Care. Based at the University of Oxford, MBRRACE-UK (Mothers and Babies: Reducing Risk through Audits and Confidential Enquiries across the UK) presented the findings of its maternal mortality surveillance from 2011-2013 in the UK.

The report also carried the lessons learned from the confidential enquiries into maternal deaths of women with mental health-related problems, substance misuse, cancer and blood clots and women who died by homicide.
In a joint statement, the Royal College of Obstetricians and Gynaecologists (RCOG) and the British Maternal and Fetal Medicine Society (BMFMS) issued a response to the report.
The statement said: "We welcome this report from the MRRBACE-UK team. It is gratifying to note that there has been a decrease in overall rates of maternal death, and that deaths from influenza and pre-eclampsia remain low. However, we are concerned that rates of indirect deaths remain high and that two thirds of the women who died had medical co-morbidities. These include deaths from pre-existing conditions that are not directly related to pregnancy, such as mental health problems, epilepsy, heart disease or cancer."

The report found that, overall, the maternal mortality rate in the UK continues to fall, largely as a result of a reduction in deaths from 'direct' pregnancy causes. However, it found that the rate of deaths from 'indirect' causes has not reduced significantly. These are described as 'deaths from conditions not directly due to pregnancy but existing conditions which are exacerbated by pregnancy, for example, women with heart problems'. More of these deaths will need to be prevented in the future, the report says, to reach the UK Government target of a 50% reduction in maternal deaths by 2030.

The RCOG/BMFMS response stated: "It is particularly saddening that around one quarter of all maternal deaths between six weeks and a year after childbirth are related to mental health problems and one in seven of the women who died in this period committed suicide."

RCOG president Dr David Richmond said: "Despite the overall decrease in the UK maternal death rate, it is clear that the challenge is now to reduce deaths from indirect causes which have remained static for the last 10 years.

"Greater integration between primary and secondary care is urgently needed to ensure that women with significant medical and psychiatric conditions are assessed before becoming pregnant and referred to specialist care in a timely manner to ensure that right support is provided throughout a woman's pregnancy and beyond.

"No woman should suffer in silence and we encourage women and their families to speak to their GP, health visitor, midwife or obstetrician about any worrying signs and symptoms – there is help and support available."

Mr Tim Overton, a consultant in fetal medicine and president of the BMFMS, added: "The major role of mental ill-health in deaths of women in the first year after giving birth emphasises the importance of early detection and effective treatment of mental ill-health in such women. Although the red flag signs described in the report are helpful, the fact that 40% will have no access to specialist perinatal mental health services is deeply worrying.

"Many of the women who died were from vulnerable groups within society, with complex social problems in addition to medical and mental health issues. It is important that care is effectively delivered to women with disadvantaged backgrounds.

"As always, this report highlights key areas for improvement. It is reassuring that resources have been pledged in the recently announced ambition by the Secretary of State for Health to reduce the rate of maternal deaths in England by 50% by 2030. The National Maternity Review, due to be published early next year, also presents a key opportunity for initiatives to address many of the issues raised in this report."

The Royal College of Midwives, meanwhile, called for urgent investment. RCM director for midwifery Louise Silverton said that it was concerning that deaths related to medical and mental health problems had not fallen significantly.

"This includes women with pre-existing medical conditions, where their condition is often exacerbated by pregnancy. These women with complex medical needs require good preconception care and additional support after birth," she said.

On a recommendation that maternity services should arrange follow-up appointments and not leave the matter to GPs, she added: "We acknowledge that this is vitally important in ensuring vulnerable women and those most in need of additional mental health care are not missed. To achieve this we need more specialist mental health midwives to provide continuity of care for these women."