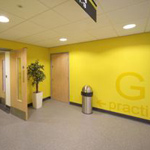 Liverpool's latest purpose built health centre was officially unveiled earlier this week by Gideon Ben Tovim, Chair of Liverpool PCT and Graham Pink , Chief Executive of Merseyside development firm LSHP Ltd.

The new £6m development based on Mere Lane in Everton is the second development to be delivered in the area after a £6 million centre opened on Townsend Lane in January, and was announced following an eight-week consultation, which saw an overwhelming 94% of respondents in favour of the proposals.
It is the twelfth development to be delivered by the Merseyside based developers LSHP Ltd on behalf of NHS Merseyside, an achievement which represents a total investment of over £70 million by the firm into the regeneration of some of Merseyside's most deprived communities.
These new developments are all part of Liverpool Primary Care Trust's wider vision for a 'New Health Service for Liverpool', which was launched in 2007. Since then, millions of pounds have been invested in purpose-built or improved facilities across the city to make health services available closer to people's homes and change the way that health services are delivered.
Graham Pink, Chief Executive of LSHP Ltd said, "We are immensely proud of this, our twelfth new facility in Liverpool. Our partnership with NHS Merseyside is a fantastic example of what can be achieved by the public and private sectors working in partnership together. Each of our developments serve areas which have poor health outcomes and which have seen very little investment over recent years, so they really are making a huge difference to local communities that use them."

The company, which specialises in the delivery of modern, innovative health and community facilities, was originally formed as part of the NHS Local Improvement Finance Trust (LIFT), a major Government initiative designed to stimulate investment in local primary and social care facilities, and reduce health inequalities.

Structured as a Public Private Partnership (PPP), with the private sector holding a 60% shareholding and the public sector owning the remaining 40%, the company holds the franchise for the NHS Local Improvement Finance Trust (LIFT) for the Liverpool and Sefton areas and is one of the schemes strongest success stories nationally.
Gideon Ben-Tovim, Chair of Liverpool Primary Care Trust said: "The 'New Health Service for Liverpool' is the most ambitious health programme the city has seen. When we outlined our plans we had a vision of delivering a wider range of services closer to people's homes, to make it more convenient and quicker for patients to access them.
"As we ready ourselves for handing over our commissioning responsibilities to Clinical Commissioning Groups, I'm delighted to see that the Neighbourhood Health Centres and the NHS Treatment Centre are already making a huge difference to the communities they serve. We are confident the programme will have a long-term impact on improving the health of Liverpool as a whole and will be a lasting legacy to the city."

LSHP was also closely supported on this project by their building contractors Galliford Try, and MBLA architects.

LSHP is also currently building a major new Neighbourhood Health Centre in Liverpool's largest regeneration zone. Situated on Edge Lane in Kensington, the new centre will be the very first building to be constructed in the Kensington area, following the major demolition programme that took place in the area in 2009 covering a total of 5,531 properties.