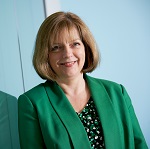 The NHS in England has welcomed the report of the review by Baroness Julia Neuberger into the Liverpool Care Pathway (LCP).
Jane Cummings, Chief Nurse at NHS England and Chief Nursing Officer for England, said: "I would like to reassure everyone, particularly patients on the LCP and their families, that NHS England and the NHS are passionate about ensuring that every patient receives the best possible care at the end of their life. I have been a nurse for over 30 years and know how important care at the end of life is for our loved ones. I say this both on a professional and a personal level.
"The review and NHS England recognise the good principles of end of life care in the LCP, but there have been failings in the quality of care in some areas and this is never acceptable. Caring for someone when they are dying is difficult and emotional even for experienced healthcare professionals. But the NHS exists to provide personal and compassionate care to patients and their loved ones when they most need it.  Most of the time we do get it right but we have to get it right for everybody. Issues such as poor communication with relatives have nothing to do with any particular care plan. That is just poor care and we don't want it in the NHS.
"Patients are at the heart of everything we do to ensure the NHS can deliver the right care to every patient at the end of their life to make sure it is the best it can possibly be. We will do this by listening to patients and their families and responding fully to the recommendations of this report to ensure that the principles of good end of life care are firmly embedded across the NHS.
"We will be carefully considering the findings of this report and working with our partners to respond fully in the autumn, to give the time and consideration such an important review deserves to meet the needs of patients and their families."
The report, More Care, Less Pathway: a Review of the Liverpool Care Pathway, was published on 15 July and recommended that the LCP be phased out and replaced with an individual end of life care plan.
Baroness Neuberger said: "There is no doubt that, in the right hands, the Liverpool Care Pathway supports people to experience high-quality and compassionate care in the last hours and days of their life.
"But evidence given to the review has revealed too many serious cases of unacceptable care where the LCP has been incorrectly implemented. Examples include leaving patients without adequate nutrition, hydration and inappropriately sedated. This is not only awful for the patients, but it is deeply distressing to their relatives and carers.
"Caring for the dying must never again be practised as a tick-box exercise, and each patient must be cared for according to their individual needs and preferences, with those of their relatives or carers being considered too.
"Ultimately it is the way the LCP has been misused and misunderstood that has led to such great problems, along with it being simply too generic in its approach for the needs of some people. Sadly it is just too late to reverse this and turn the clock back to get it used properly by everybody."
Other recommendations among the 44 made include:
•A general principle that a patient should only be placed on the LCP or a similar approach by a senior responsible clinician in consultation with the healthcare team
• Unless there is a very good reason, a decision to withdraw or not to start a life-prolonging treatment should not be taken during any 'out of hours' period
• An urgent call for the Nursing and Midwifery Council to issue guidance on end of life care
• An end to incentive payments for use of the LCP and similar approaches
• A new system-wide approach to improving the quality of care for the dying.