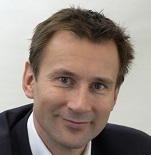 The UK will be hosting the first 'G8 Dementia Summit' in December this year. David Cameron and Health Secretary Jeremy Hunt will be using the UK's presidency of the G8 this year to take the lead in taking global action against what is fast becoming one of the greatest pressures on families, carers and health systems around the world.
In the UK alone, there are likely to be nearly a million people with the condition by the end of 2020. Now the government is looking to spark a worldwide effort by inviting health ministers from G8 countries to a summit in London on 11 December to discuss how they can co-ordinate efforts and shape an effective international solution to dementia. This includes looking for effective therapies and responses to slow dementia's impact.
The summit will aim to identify and agree a new international approach to dementia research, to help break down barriers within and between companies, researchers and clinicians and secure a new level of co-operation needed to reach shared goals faster than nations acting alone.
It will draw on the expertise and experience of the OECD, WHO, industry, national research organisations, key opinion leaders, researchers and physicians.
Health Secretary Jeremy Hunt said: "Globally there is a new case of dementia every four seconds, and by 2020 we will see nearly 70 million people living with the condition.