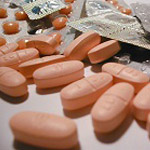 The Government has announced increased funding to tackle "the nation's most pressing health problems".
On 9 August Health Minister Lord Howe announced an investment of £124m from the National Institute for Health Research (NIHR) into treatments and techniques which could revolutionise future health care.
Experts from 13 research teams across the country are expected to spend the next five years working on ground-breaking projects.
The research that will be supported includes work to reduce the risk of dementia through exercise as well as strategies to improve the nutrition and health of those who have already been diagnosed.
Long terms conditions is another key area, the announcement said. Some research teams will be exploring ways to improve the diagnosis of chronic obstructive pulmonary disease (COPD), while others will be looking at better aftercare for stroke patients. There will also be research to help prevent at-risk groups from developing diabetes.
Some of the projects will be aiming aim to reduce pressures on A&E and include trying to cut down admissions in children under five and people with long-term conditions.