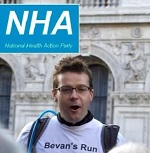 A new political party has been launched by doctors to fight the changes to the NHS which they see as damaging to the healthcare system. National Health Action is set to challenge the privatisation of the NHS and the fragmentation of care accelerated by the Health and Social Care Act.
The launch was reported by the BMA, which said the new party "...will fight to repeal the act, and campaign to ensure that clinical commissioning groups have the freedom to choose local NHS services."
According to the BMA, the party intends to fight in up to 50 Parliamentary constituencies, including those of the PM, former health secretary Andrew Lansley, current health secretary Jeremy Hunt, Chancellor George Osborne and schools minister David Laws. It will also take part in local elections.