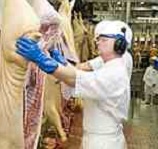 The Food Standards Agency is seeking a contractor to carry out research to explore a model whereby plant staff acting as 'spotters' identify and flag up defects on carcases and offal. That would happen before the official meat inspection is carried out by official veterinarians or meat hygiene inspectors. The project went out to tender via the social science research framework with a deadline for submitting tenders of 24 January. Only those suppliers registered in the framework were able to apply.
The study will aim to gather evidence to reform meat inspection the better to target public health, animal health and animal welfare conditions. The objective of the FSA's review of meat controls is to improve public health, animal health and animal welfare protection by adopting a more risk and evidence-based approach to meat production. It follows a number of scandals regarding safety and honesty in the meat production industry.
According to the Food Standards Agency, meat controls are currently based on a traditional inspection approach developed more than 100 years ago to tackle the public health concerns of that era, such as parasites and defects visible to the naked eye. Today, the main cause of foodborne disease is microbiological. Microbiological threats – the bacteria campylobacter, salmonella and E.coli, for example – cannot be adequately tackled using traditional inspection methods.