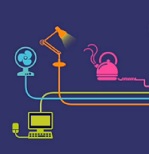 National Grid has announced the route corridor and substation site to connect proposed new windfarms in Mid Wales to the high-voltage electricity network in Shropshire. Cefn Coch in Powys has been identified as the preferred area for the substation and the 'red north' route via Llansantffraid to Lower Frankton in Shropshire as the preferred route corridor.
According to the announcement, on 31 July: "Listening to local views has played an important part in this decision. National Grid has consulted extensively with local people and specialist bodies, and has weighed up issues such as landscape, flooding, heritage, ecology, tourism and transport. The selection also takes into account the proposed connections from the windfarms to the new substation by ScottishPower Energy Networks (SPEN) and SSE Renewables (SSE)."
It is likely that a combination of both overhead lines and underground cables will be used for the connection, although the part of the route planned to go through the Vyrnwy Valley, which National Grid recognises could be "particularly sensitive to an overhead line", would be difficult to site underground.
Jeremy Lee, lead project manager for National Grid, said: "We've been very keen to listen to the feedback from local people and for it to help shape our plans, together with the further work we've carried out following our consultation. We believe the substation site and route corridor we've chosen will allow us to balance all the things we have to consider.
"We are at an early stage of this project and still have many decisions to make. We will carry on listening to local views and these will play an important role as our plans progress. We understand people have concerns about overhead lines, but where they are used, we will work hard to reduce any visual effects by routing the line carefully and using appropriate pylon designs which could include the new T-pylon."
Campaigners against the pylon route are said to be "disappointed but not surprised". Jonathan Wilkinson, chairman of Montgomeryshire Against Pylons, told The Guardian: "If they wanted to choose a route to maximise opposition, they've chosen it. If they wanted a fight, they've certainly got one now."
The six planned windfarms that would be serviced by the line are by no means certain to go ahead. Two have been called in by the Government for public inquiry next year, while the other four have been rejected by Powys Council. The council, however, has no power to over-rule schemes of more than 50MW.
Montgomeryshire Assembly Member Russell George told Wales Online in June: "This inquiry was triggered by Powys council rejecting both these applications back in March.
"The decisions made by the council were not just sound in principle but they also exposed in the application process, some of the poorly contrived thinking and inadequate planning that the associated developers had put forward."
A number of groups will be looking to offer expert witness evidence at the inquiry.
• Illustration from National Grid announcement video