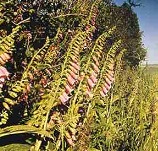 On 7 November the Soil Association announced two new funding competitions to support innovative research in sustainable agriculture, as part of the Duchy Originals Future Farming Programme.
Farmers and growers can apply directly for £2,000 of investment to test ideas to tackle real problems in farming on their own farm through a 'field lab'. Field labs bring a small group of likeminded farmers together to solve a problem, adapting an approach pioneered in developing countries that supports practical DIY research by farmers. Up to 15 winners will receive £500 cash towards their time and costs, and at least £1,500 of 'in-kind' support from an expert researcher and facilitator.
Liz Bowles, head of farming at the Soil Association, explained: "We've run a dozen field labs so far through the Duchy Originals Future Farming Programme, tackling problems ranging from weed control to reducing antibiotic usage in dairy herds. Farmers are already benefitting from the results of the first round and I encourage more farms to get involved. We have listened to feedback and we have increased the support on offer to an investment of £2,000 – including much needed practical support."
In a parallel competition, scientists can apply for up to £25,000 for innovative, practical projects suggested by farmers to tackle three key challenges for organic and low-input agriculture: managing weeds without herbicides; affordable protein feed for poultry, pig and fish farming; and growing even healthier food.
Unusually, the researchers must team up with farmers or growers to design their projects and applications are peer-reviewed by hands-on producers as well as by scientists.
Speaking about the funding, Tom MacMillan, innovation director at the Soil Association, said; "We had a fantastic response to the first round of this competition last year, and gathered a wealth of ideas from producers about research that could help them. This time we've made it even simpler to apply and focused on these three big challenges. We're looking for truly ingenious ideas, rigorous research design and, above all, the potential to make a big difference on the ground.
"This programme is about putting farmers and growers in the driving seat when, all too often, the big bucks spent on R&D draw power, wealth and jobs away from farming to the input industries upstream of it. It's in the public interest to shift the balance."
Research is more crucial than ever to agriculture, says the Soil Association, as the industry strives to farm sustainably in the face of climate change and increasing pressure on natural resources. Behind the new priorities is the challenge to make sure research is practical and relevant for farmers. It needs to tackle the real problems faced by farmers as they grapple with improving their productivity while protecting the environment.
The deadline for both competitions is 5 December. Field lab grants will be awarded to suitable projects on a first-come first-served basis, while research projects will be reviewed after the deadline with the successful teams announced in January.
For details of the research fund visit www.soilassociation.org/researchfund; for field lab details visit www.soilassociation.org/hostafieldlab.