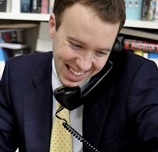 Graduate and post-graduate level apprenticeships will soon be available in subjects including law, accountancy and advanced engineering, following an announcement by skills minister Matthew Hancock (pictured). From next year, changes to the Specification of Apprentices Standards for England (SASE) will mean that level six and seven apprenticeships – equivalent to bachelors' and masters' degree level – are available for the first time, making vocational learning an attractive alternative to the traditional higher education route.
There are already a number of these top-level schemes in development, including in accountancy and law. BPP Law School, a subsidiary of a US private law school – is looking to develop a legal apprenticeship pathway which could be an alternative route to the legal profession and qualification as a solicitor. It is in discussion with the relevant regulatory body and sector skills council, Skills for Justice, to progress its proposals.
Mr Hancock said: "In the past, apprenticeships were restricted to only some trades, and some parts of the economy. Now we are introducing apprenticeships in all types of jobs, including a new route to the professions, to ensure everyone can reach their potential.
"These new apprenticeships will help more young people to receive on-the-job training at top companies like BPP Law School, ensuring a vocational route to success in accounting, insurance, and the law."
Writing in the Daily Telegraph, he said: "University is not for everyone. There is no reason why you can't reach exactly the same qualifications, without the degree, starting on-the-job training in an apprenticeship from day one."
Director of BPP Professional Apprenticeships James Hammill declared: "We are committed to improving social mobility and diversity in the work place by opening up some of the most prestigious professions and employers to school leavers as an alternative to the traditional route. Apprenticeships are an excellent way for employers to recruit talent early and design a structured training programme that incorporates technical learning as well as invaluable work based skills."